I confess I am a huge fan of Photoshop contests. One day, when we win the lotto, I hope to purchase Photoshop so I can play with it myself, but until that time I am happy to laugh along at others' creations. So today I'm going to tell you about my two favorite Photoshop contests - now with Browser Popping Goodness™ (I've been taking an html tutorial online, so I now know enough to be dangerous!).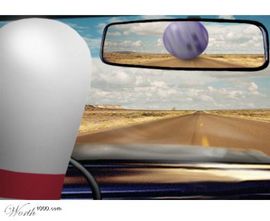 This very clever entry can be found at
Worth1000
. These folks are true artists, and I am consistantly blown away by their creations. Be sure to check out their galleries, especially the
Picture of the Day
.
The kids over at
Something Awful
are just plain silly - and I am down with the silly. They have a weekly photoshop contest called
Photoshop Phriday
and also occassionally feature Photoshopped images in
Comedy Goldmine
-
this one
made me laugh so hard I had trouble breathing for the rest of the afternoon.
So there are your recommendations for wasting even more time on the internet from little ole me. Enjoy the rest of your weekend!