Steph and I headed over to Carrefour Friday midday to see about a turkey. We hadn't put it off; we just thought buying a fresh one would be nicer than having one in the fridge for several days.
To tell you the truth, I didn't expect to find a turkey, since turkey is generally reserved for Christmas around here, and if you want a whole one this early, you have to special order it from your butcher (like
Auntie M
did). I was ready to work with what we could find. So imagine my surprise when the butcher said that they did indeed have a turkey! That was short lived, however, as the butcher then hauled out what was easily a 25 pound turkey that we couldn't have shoved into our little oven with a tub of lard and a battering ram. So. Instead we bought a ginormous 4 pound breast of turkey, wrapped up in string, ready to be roasted. In fact, it looked a little like this: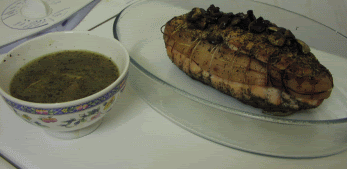 Stuffed with garlic, seasoned within an inch of it's life, topped with sauteed mushrooms, with the turkey gravy and onions on the side. And, my friends, it was damn tasty.
The green bean wraps I mentioned in my last frantic post were from a friend (who calls herself Squishybutt when she posts here....... it's a long story) who's aunt makes these tasty things. Wrap your green beans in bacon, we topped them with mushroom caps, secure with toothpics and chuck into the oven. Quite yummy.
As for our guests, they were fantastic! They ooohed over the turkey, they
loved
the stuffing, they appreciated the cranberry sauce and even ate it the right way -
with
the turkey, and the pecan pie was a huge hit. Dinner ended around 11:00, and a couple of guys hung around to play a bit of Tarot until everyone was too tired to go on, and the party broke up at 1:00.
It really was a lovely evening, followed by a day of pain - three glasses of wine do my head no good. But, the kitchen is clean again, the front room tidied up, and all that is left is the gorgeous floral arrangement the gang gave us when they arrived.