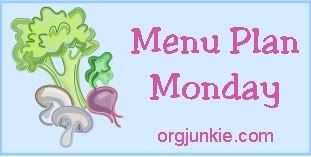 Last week's new recipe,
Penne Arrabiata
, was excellent, but if you make it as written, it is super spicy! Too spicy for Stéph and really at the limit for me. I'll make it again, but next time I'll cut the amount of red pepper flakes in half!
Otherwise, this week is full of oldies but goodies. Stéph's Spring Break has started and he'll be stepping up to the stove Tuesday night.
Monday
Lunch
I was planning on running errands in Troyes this morning, but a) we woke up to snow and b) I think most of the stores I want to go to are closed on Mondays! I think Stéph and I are going to grab something out for lunch today.
Dinner
ravioli and veg (whatever looks good at the grocery!)
Tuesday
Lunch
Mom's Meatloaf
, veg
Dinner
crêpes maison
(homemade crepes, filled with ham & cheese for dinner and
Nutella
for dessert!)
Wednesday
Lunch
Meatloaf (leftovers), veg
Dinner
chicken & mushroom spinach salad
Thursday
Lunch
chicken curry (recipe at the bottom of
this post
)
Dinner
steak hachée, veg
Friday
Lunch
meat cannelloni (not made fresh, to be honest! I saw some fresh meat cannelloni in the grocery last week which just needs sauce and throwing in the oven for half an hour. We'll see how it is!)
Dinner
Free night (leftovers, pull from the freezer or eat out)
Saturday
Lunch
chicken noodle casserole (based on
this recipe
)
Dinner
surimi salad
Sunday
Lunch
chicken noodle casserole (leftovers)
Dinner
tuna sandwiches
For more recipe ideas, be sure to check out
I'm an Organizing Junkie
.