.... no really! Paris is a nice place to visit, but I wouldn't want to live there. Well, let me tell you what we got up to this weekend.
We arrived at the home of Stéph's friend Y and his girlfriend S in Nanterre, a suburb just northeast of Paris, around 1:30. I'm happy to report that we only got slightly lost, but it was lovely to see the Arc de Triomphe again, even though we hadn't meant to. After lunch, they suggested going into the city, since they are literally 50 steps away from an RER station (subway that connects to the metro), and wondered if we had an idea of something to see.
Well, not too long ago, I was puttering around online and found a couple of American groceries in Paris. Knowing that eventually we'd be going there for one reason or another, I jotted down the addresses. Stéph suggested this, and our hosts were game for a little scavenger hunt.
After a little map hunting, we were on our way. Our first stop was in the 4th arrondissement*, where we nearly lost our hosts on rue de Rivoli. That street was absolutely
insane
. I've only ever seen a throng of people that large that could stop traffic before in New York City. As we walked, Stéph and I played "Name That Accent", which is where you try to determine the nationality of the english speaker walking behind/beside/in front of you. Finally we arrived at
Thanksgiving
, on rue Saint Paul. Walking in the shop definitely had the "kid in the candy store" affect on me.
After I picked out a few items, S suggested we go to the other store, which was quite a shock as it had taken quite a while to find this one, and I told her it wasn't necessary, but she insisted that she didn't mind. So, off we went to the 7th arrondissement*, where we found The Real McCoy. I couldn't find a website for this place, but they did give me a little flyer and I'm happy to give them a little shout out since they were so nice and they truly had a great selection of stuff: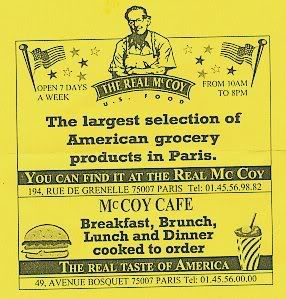 So I know you're wondering, what the heck did she buy? Well, I'm happy to show you: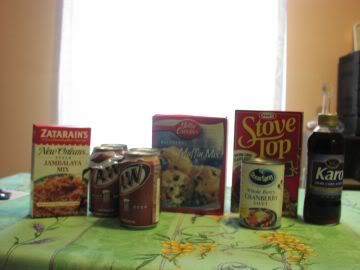 I'm embarrassed to tell you how much we paid for that stuff, so I'll just say it was easily twice what you would pay at your local grocery. The root beer was more for Stéph than it was for me, and he had one ready to drink as we left The Real McCoy. He invited Y and S to try it, and they all agreed that it smelled like Vick's Vapor Rub. Eh?
On our way back to Nanterre, we happened to walk by this
Paris landmark
. It suddenly occurred to me that the last time I stood on this spot was 15 years ago, when I came to France with my high school choir. Damned funny the way life works out, isn't it?
We had a pleasant evening of conversation and dice games, and after breakfast and a walk around the park the next morning, we headed home. It took us easily an hour and a half to get out of Paris, which is another reason it's a nice place to visit, yadda yadda yadda. How do people not go postal on each other there? But I digress: Y and S were super gracious hosts, and I hope we can return the favor one day.
*What the heck is an arrondissement?
From the
(Basic) Paris Glossary
:

Arrondissement - Paris is divided up into twenty ``arrondissement'' or districts. The ``First'' is in the center of the city, and the others are laid out in a clockwise manner about this. As these are such a basic unit to the city, they are constantly referred to in guides and literature; almost always using simply their associated number (1er, or 2em etc). The Louvre is in the First, the Arc de Triomphe is in the Eighth. NB: You can determine the arrondissement of an address from its postal code. The last two digits of a Paris address give the arrondissement; 75018 is the eighteenth for example. The exception to this rule are addresses with the word ``CEDEX'' appearing in them.