It was a nice, calm weekend. Saturday we did a little shopping and after dinner we met some friends downtown for a drink. Eric presented me with a dvd of the first season of The West Wing ("A La Maison Blanche" here in France) which had me bouncing up and down like a fool, and I had an interesting conversation with Christophane, who, while "practicing his English" on me, told me that he feels that the French are lazy and are always on vacation or on strike. I countered that I feel that Americans work too hard and when they are on vacation, rush through the little time they have so fast to "make the most of their vacation" that they come back more tired than when they left. Too bad they can't meet in the middle, eh?
Yesterday was a very lazy day. I lolled about reading a book (oh sweet luxury, reading all day knowing I don't have to make this book last!) and watching the first four episodes of The West Wing.
Apparently, Squishy took all the warm back to the states, because
the very next day
the temperature dropped, and it hasn't gotten over 40 degrees since. Which is fine; I prefer that winter actually feel like winter, instead of the freakish "Global Warming? Wha?" thing that was happening the last couple of weeks. Although it was nice while doing touristy things.
Anyway, I do intend to blog about a couple of things that happened in Paris, particularly the story of the Greek restaurant and the wacky tour guide from Pere Lachaise, but the apartment is in desperate need of attention. In the meantime, the pictures from the Musuem of the Middle Ages are up on the
Photoblog
, and to intice you, here's a sneak peek: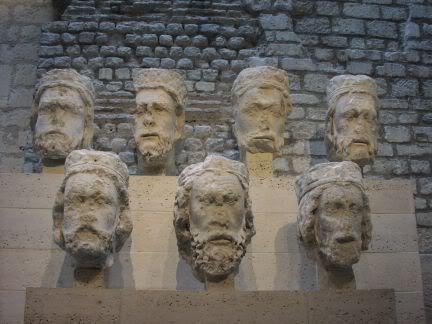 These heads were once on statues that graced Notre Dame de Paris, to give you an idea of how huge they are.